37 Inspirational David Beckham Quotes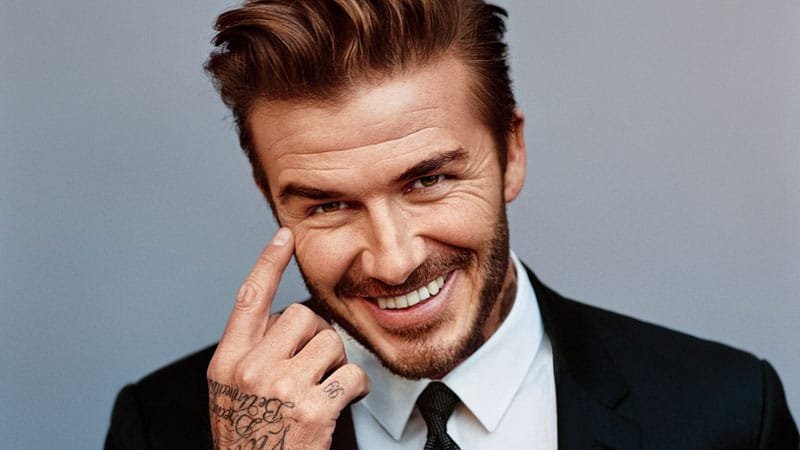 David Beckham was one of the most iconic football players of his generation and as you'll see from these David Beckham quotes he is also an inspirational person outside of sports.
During his professional career he played and won many trophies with Manchester United and Real Madrid, two of the biggest clubs in world football. He also captained the England national team.
Known for his range of passing, crossing ability and bending free-kicks as a right winger, Beckham has been hailed as one of the greatest midfielders of all time. At one point he was arguably the most recognised player in world football, prompting the movie title Bend It Like Beckham.
During the later stages of his career Beckham moved to Los Angeles to play for LA Galaxy in the MLS. It was a high profile move that was highly influential and acted like a catalyst for the growth of soccer in the United States.
Throughout his career David Beckham has always attracted attention for his good looks but his personal life came under a lot of public scrutiny after marrying the Spice girl Posh Spice, now Victoria Beckham. The father of four is a dedicated family man.
Outside of the game David Beckham has smartly used his image and brand appeal to create a lifestyle empire which includes fashion, fragrances and more. While he was consistently one of the highest paid players during his career his combined estimated net worth with Victoria Beckham is $1 billion.
In 2014, Beckham teamed up with a group of investors to own the professional football team Inter Miami CF.
This collection of David Beckham quotes are his most motivating quotes. Hope you enjoy them!
37 Motivational David Beckham Quotes
1. "The only time you run out of chances is when you stop taking them." – David Beckham
2. "I never do anything half-heartedly. I will continue to work hard and do everything I can to be successful, whatever I do." – David Beckham
3. "The secret to my success is practice." – David Beckham
4. "I still look at myself and want to improve." – David Beckham
5. "Being hardworking is the best thing you can show children." – David Beckham
6. "Every situation has changed me as a person." – David Beckham
7. "I'm a strong person, I'm a strong family man, I'm a strong husband and a strong father." – David Beckham
8. "It's a man's job to respect a woman but it's a woman's job to give him something to respect." – David Beckham
9. "In my career, there's many things I've won and many things I've achieved, but for me, my greatest achievement is my children and my family. It's about being a good father, a good husband, just being connected to family as much as possible." – David Beckham
10. "That was my way of getting through difficult times of low confidence – hard work." – David Beckham
11. "I have always believed that if you want to achieve anything special in life you have to work, work, and then work some more." – David Beckham
12. "As a footballer, you always want to test yourself against the best." – David Beckham
13. "I don't regret anything but that doesn't mean that I don't look back and think, what was I thinking?" – David Beckham
14. "People react to criticism in different ways, and my way is definitely to come out fighting." – David Beckham
15. "I always say that practice gets you to the top most of the time." – David Beckham
16. "No one's ever really given me any style advice. I wear what I want, and it doesn't matter what other people think." – David Beckham
17. "I'd rather have three really good friends than twenty good friends." – David Beckham
18. "It's so important to have manners and treat people from all walks of life the way they should be treated." – David Beckham
19. "My private life is perfect. If your private life and your life outside football is good, then it is good on the field for you." – David Beckham
20. "Hindsight is a wonderful thing." – David Beckham
21. "When you have kids you do grow up. I have just started realizing it now – it changes the world, having children." – David Beckham
22. "Whatever I do, I want to be the best." – David Beckham
23. "Family is the most important thing to me." – David Beckham
24. "My parents were always very strict, and they gave me the right beliefs in how to treat people – I try to pass that on to my own children." – David Beckham
25. "Always have something to look forward to." – David Beckham
26. "You can be the one in a million. Don't be discouraged by the odds to succeed." – David Beckham
27. "I'm a very stubborn person. I think it has helped me over my career. I'm sure it has hindered me at times as well, but not too many times. I know that if I set my mind to do something, even if people are saying I can't do it, I will achieve it." – David Beckham
28. "You will go through tough times, it's about getting through them." – David Beckham
29. "Like any parent, I just want the best for my kids, whatever they decide to do. They will choose what path they want to follow, and we will always be there to encourage them." – David Beckham
30. "I don't have time for hobbies. At the end of the day, I treat my job as a hobby. It's something I love doing." – David Beckham
31. "There are certain battles that you pick. When they're not worth picking, they're laughable stories." – David Beckham
32. "I'll never forget where I'm from, never forget my roots. It doesn't matter where I live. I'm English, simple as that. – David Beckham
33. "I don't do anything unless I can give it 100%." – David Beckham
34. "Everyone's been so quick to say that I'm really thick or I haven't got a brain. People will think whatever they want to think." – David Beckham
35. "Sometimes it is the little things that make the biggest difference." – David Beckham
36. "Impossible is just a big word thrown around by small men who find it easier to live in the world they have been given than to explore the power they have to change it." – David Beckham
37. "Don't be like most people. Most people give up on their dreams." – David Beckham
Did you find these David Beckham Quotes inspiring?
Which David Beckham quote is your favourite? Let me know in the comments and please share this post to help and inspire others.