Top 16 Conrad Hilton Quotes On Success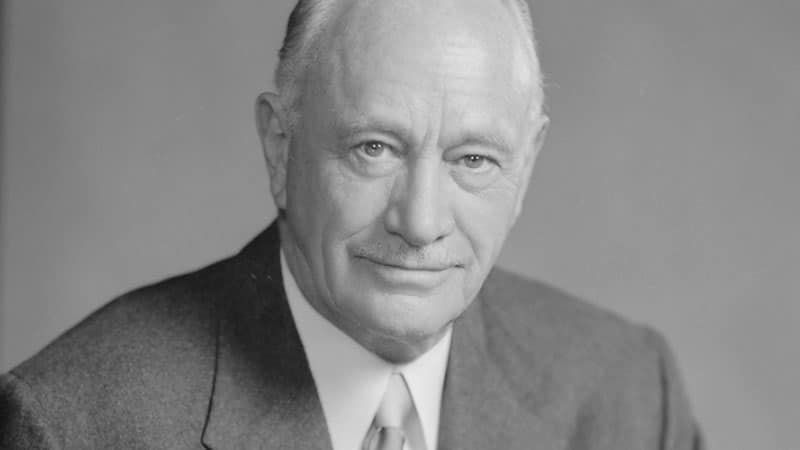 Looking for the best Conrad Hilton quotes? Then look no further.
One of the most iconic names in the hospitality industry, Conrad Nicholson Hilton was an American hotelier and the founder of the Hilton Hotels chain.
Hilton was also a notable philanthropist who's mission was to alleviate human suffering by setting up the Conrad N. Hilton Foundation. He was also instrumental in setting up The Conrad N. Hilton College, a hospitality school of the University of Houston.
Conrad Hilton also developed a cult following through his thoughts and writings which emphasized subjects such as wealth, success, achievements, humanity, poverty, charity, greatness, wisdom, knowledge, equality and freedom. His most popular books being Be My Guest and Inspirations of an Innkeeper.
Conrad Hilton passed away in 1979 at the age of 91 with a net worth of $1 billion. Equivalent to $3.45 billion today.
Below you'll find the best Conrad Hilton quotes on success which I hope will inspire you to take action and increase your generosity.
Inspirational Conrad Hilton Quotes
1. "Success seems to be connected to action. Successful people keep moving. They make mistakes, but they don't quit." – Conrad Hilton
2. "Success is never final; failure is never fatal." – Conrad Hilton
3. "To accomplish big things, I am convinced you must first dream big dreams." – Conrad Hilton
4. "To some degree, you control your life by controlling your time." – Conrad Hilton
5. "In the circle of successful living, prayer is the hub that holds the wheel together. Without our contact with God we are nothing. With it, we are 'a little lower than the angels, crowned with glory and honor.'" – Conrad Hilton
6. "I think intuition can be a form of answered prayer. You do the best you can – thinking, figuring, planning – and then you pray." – Conrad Hilton
7. "Be ever watchful for the opportunity to shelter little children with the umbrella of your charity; be generous to their schools, their hospitals, and their places of worship. For, as they must bear the burdens of our mistakes, so are they in their innocence the repositories of our hopes for the upward progress of humanity." – Conrad Hilton
8. "The practice of charity will bind us – will bind all men in one great brotherhood." – Conrad Hilton
9. "Enthusiasm is a vital element toward the individual success of every man or woman." – Conrad Hilton
10. "I can think of no greater God-given responsibility we have than that of extending a helping hand to our fellow man." – Conrad Hilton
11. "It always started with a dream." – Conrad Hilton
12. "To be haunted by past failures or satisfied with past successes is to arrest forward motion." – Conrad Hilton
13. "I know when I have a problem and have done all I can to figure it, I keep listening in a sort of inside silence 'til something clicks and I feel a right answer.'" – Conrad Hilton
14. "There is a natural law, a Divine law, that obliges you and me to relieve the suffering, the distressed and the destitute." – Conrad Hilton
15. "Charity is a supreme virtue, and the great channel through which the mercy of God is passed on to mankind. It is the virtue that unites men and inspires their noblest efforts." – Conrad Hilton
16. "The man who wins is the average man, not built on any particular plan; Not blessed with any particular luck." – Conrad Hilton
Did you like these inspirational quotes?
What are your favorite Conrad Hilton quotes? Let me know in the comments below and please share this post.