43 Inspiring Peyton Manning Quotes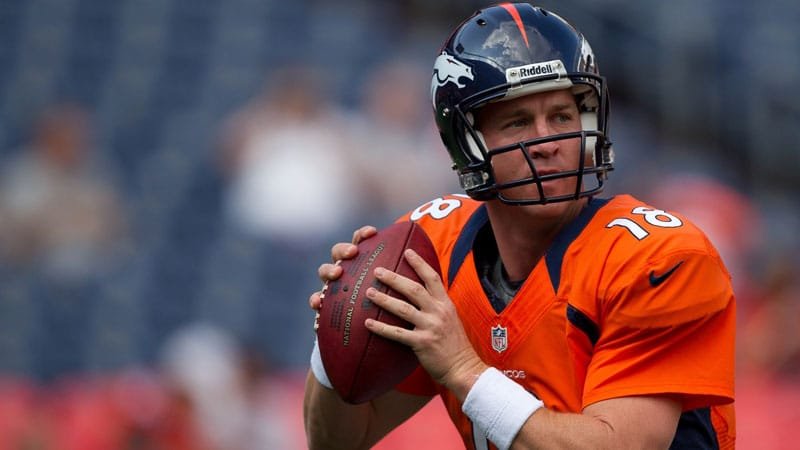 Peyton Manning is a former American football quarterback who had an incredible career, playing 18 seasons in the NFL.
He spent most of his career playing for the Indianapolis Colts, and finishing the last four seasons playing for the Denver Broncos.
Peyton Manning is considered one of the greatest quarterbacks of all time and holds numerous records including a five-time league Most Valuable Player award, holds the most career touchdowns, and most passing yards.
You don't enjoy Manning's success over such a long time without have a strong mindset, so below are 43 Peyton Manning quotes to inspire you to success.
43 Peyton Manning Quotes
1. "It takes 20 years to build a reputation and five minutes to ruin it." – Peyton Manning
2. "It's not wanting to win that makes you a winner; it's refusing to fail." – Peyton Manning
3. "If you work hard and you play well, all those critics quiet themselves pretty quickly." – Peyton Manning
4. "I've never left the field saying, 'I could've done more to get ready,' and that gives me peace of mind." – Peyton Manning
5. "Imitation is obviously a great form of flattery." – Peyton Manning
6. "There are other players who were more talented, but there is no one who could out-prepare me." – Peyton Manning
7. "I've tried to keep myself out of bad situations, and if that means I'm a Goody Two-shoes, so be it." – Peyton Manning
8. "You certainly know when you have an opportunity, and you want to take advantage of it. And it's certainly disappointing when you don't." – Peyton Manning
9. "When you go through a significant injury and have a major career change, you truly do go one year at a time, and you don't look past what's going on now, because you are not sure what's going to happen. Tomorrow is not promised." – Peyton Manning
10. "I'm totally convinced that the end of my football career is just the beginning of something I haven't even discovered yet." – Peyton Manning
11. "I pray every night, sometimes long prayers about a lot of things and a lot of people, but I don't talk about it or brag about it because that's between God and me, and I'm no better than anybody else in God's sight." – Peyton Manning
12. "Don't ever think, no matter how old you are, that you don't need to be coached." – Peyton Manning
13. "I get asked a lot about my legacy. For me, it's being a good teammate, having the respect of my teammates, having the respect of the coaches and players. That's important to me." – Peyton Manning
14. "If nothing else in life, I want to be true to the things I believe in, and quite simply, to what I'm all about. I know I'd better, because it seems whenever I take a false step or two I feel the consequences." – Peyton Manning
15. "The one year the Lord took my greatest physical gift, he gave me the greatest gift you could have in children. So that was a real equalizer. And I would take that trade any day of the week." – Peyton Manning
16. "Pressure is something you feel when you don't know what the hell you're doing." – Peyton Manning
17. "A man's got to know his limitations." – Peyton Manning
18. "The most valuable player is the one that makes the most players valuable." – Peyton Manning
19. "Remind your critics when they say you don't have the expertise or experience to do something that an amateur built the ark and the experts built the titanic." – Peyton Manning
20. "Anyone who waits for someone else to make a change automatically becomes a follower." – Peyton Manning
21. "Life is about choices. You ask the questions and you listen to the answers. Then you listen to your heart." – Peyton Manning
22. "I'm not 23 anymore. But the defensive ends and linebackers chasing me are. If I had to chose between youth and experience, I'd take experience every time." – Peyton Manning
23. "My faith doesn't make me perfect, it makes me forgiven." – Peyton Manning
24. "You've got to remember what your priorities are. When you're playing, what you do on the field is the most important thing." – Peyton Manning
25. "Everybody is going to be excited to play in a Super Bowl. When you still enjoy the preparation and the work part of it, I think you ought to be still doing that. I think as soon as I stop enjoying it, if I can't produce, if I can't help a team, that's when I will stop playing." – Peyton Manning
26. "My dad was a class person on and off the field. That's the person I want to be." – Peyton Manning
27. "I'm very humbled and I'm very honored. I certainly think about how grateful I am for all the teammates and coached that I've played with and played for throughout my career." – Peyton Manning
28. "Being there every week for my teammates is really important to me. It's all about accountability. I hear stuff about the 'toughest quarterback in the league' and all that; what's that mean?" – Peyton Manning
29. "Boy, do I hate to lose." – Peyton Manning
30. "When people are watching you, it makes you think twice about what you do, and the things you say, and the people you hang around with." – Peyton Manning
31. "My job is to play well offensively and help my team score points. So I feel very responsible every time we lose a game." – Peyton Manning
32. "I was never on a mission to be an NFL quarterback. I wanted to be a good high school player, and I worked hard at that. That made me good enough to play in college and then I wanted to be a good college quarterback. During college I played well enough to make it into the NFL. I never took it for granted and really wanted to play hard at each level and I have always had a lot of fun doing what I wanted to do." – Peyton Manning
33. "I've been being asked about my legacy since I was about 25 years old. I'm not sure you can have a legacy when you're 25 years old. Even 37. I'd like to have to be, like, 70 to have a legacy. I'm not even 100 percent sure what the word even means." – Peyton Manning
34. "One thing that can never be sacrificed is your preparation and your work ethic." – Peyton Manning
35. "When you get a lot of money thrown at you, you can make some dumb decisions without the right advice." – Peyton Manning
36. "I like to be able to do things on my own. I'm a big boy. I can drive myself to an appearance or get on a plane. I like a little bit of independence." – Peyton Manning
37. "Some guys lose their focus. They get caught up in the business deals or the endorsements, and they lose their focus. For me, it's always about football. I've never lost sight of what's making all these other things happen." – Peyton Manning
38. "In life, and in sports, we all know that nothing lasts forever." – Peyton Manning
39. "I love being coached. I get angry when I'm not coached. I ask a lot of questions and certainly appreciate any insight and feedback. I think if you ever stop listening to coaching or stop asking questions, you probably need to be doing something else." – Peyton Manning
40. "I've never taken for granted what we've had, not for one single game, not one single practice,…I've truly been blessed." – Peyton Manning
41. "After a loss like this we just have to go back and work harder. We got outplayed and that's all there is to it. You have to let it go, move on and just work harder." – Peyton Manning
42. "In the NFL game today, there are a lot of better athletes than I am, and quarterbacks these days are faster than the quarterbacks have always been, they're running like crazy. But I kind of stick to my roots of the disciplined quarterback. You know, I'm doing the same routine every week, studying tapes and working hard, getting ready to play and making good decisions on Sundays." – Peyton Manning
43. "If people think I'm a laid-back guy, that's their mistake." – Peyton Manning
Did you find these Peyton Manning Quotes inspiring?
If you liked these Peyton Manning quotes then please share this post to help inspire others.