50 Michael Dell Quotes That Will Inspire And Motivate You
I wanted to put together the best Michael Dell quotes I could find because along with a few other entrepreneurs Michael Dell was a big inspiration for me to start my first company.
Starting in 1984 with $1000 from his college dorm room, Michael Dell was able to capitalize on the opportunities the other computer giants like Compaq and IBM couldn't see at the time and started selling computers on a build to order basis.
Dell continued to pioneer the build to order business model which allowed them to undercut a lot of their larger competitors.
Today Dell continues to be among the top personal computer manufacturers in the world and as of 2016 Michael Dell's net worth is estimated to be $20.3 billion and Dell Inc revenues are $54.9 billion.
Below I've picked out the best quotes from Michael Dell that will inspire and motivate any entrepreneur. Enjoy and share.
50 Michael Dell Quotes
1. "You don't have to be a genius or a visionary or even a college graduate to be successful. You just need a framework and a dream." – Michael Dell
2. "Our business is about technology, yes. But it's also about operations and customer relationships." – Michael Dell
3. "Every breakthrough business idea begins with solving a common problem. The bigger the problem, the bigger the opportunity. I discovered a big one when I took apart an IBM PC. I made two interesting discoveries: The components were all manufactured by other companies, and the system that retailed for $3,000 cost about $600 in parts." – Michael Dell
4. "People ask me all the time, 'How can I become a successful entrepreneur?' And I have to be honest: It's one of my least favorite questions, because if you're waiting for someone else's advice to become an entrepreneur, chances are you're not one." – Michael Dell
5. "I always knew I wanted to run a business someday." – Michael Dell
6. "It's through curiosity and looking at opportunities in new ways that we've always mapped our path at Dell. There's always an opportunity to make a difference." – Michael Dell
7. "Real entrepreneurs have what I call the three Ps (and, trust me, none of them stands for 'permission'). Real entrepreneurs have a 'passion' for what they're doing, a 'problem' that needs to be solved, and a 'purpose' that drives them forward." – Michael Dell
8. "There are a lot of things that go into creating success. I don't like to do just the things I like to do. I like to do things that cause the company to succeed. I don't spend a lot of time doing my favorite activities." – Michael Dell
9. "I do think a founder has special permission to make sweeping changes across an organization." – Michael Dell
10. "Don't spend so much time trying to choose the perfect opportunity, that you miss the right opportunity." – Michael Dell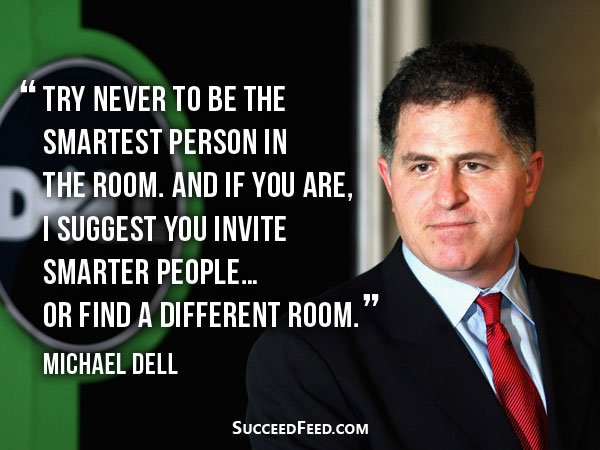 11. "Recognize that there will be failures, and acknowledge that there will be obstacles. But you will learn from your mistakes and the mistakes of others, for there is very little learning in success." – Michael Dell
12. "If you're happy, that's probably the most important thing. Everyone probably has their own definition of success, for me it's happiness. Do I enjoy what I'm doing? Do I enjoy the people I'm with? Do I enjoy my life?" – Michael Dell
13. "One of the things I benefited from when I started this business was that I didn't know anything. I was just instinct with no preconceived notions. This enabled me to learn and change quickly without having to worry about maintaining any kind of status quo, like some of my bigger competitors." – Michael Dell
14. "Whether you've found your calling, or if you're still searching, passion should be the fire that drives your life's work." – Michael Dell
15. "We have enormous potential to keep growing. It provides lots of learning opportunity for me and it's fun to see how so many people, so many communities are affected in a positive way by what we're doing here. I love my job and I'm not giving it up." – Michael Dell
16. "Try never to be the smartest person in the room. And if you are, I suggest you invite smarter people … or find a different room." – Michael Dell
17. "We are all gifts to each other, and my own growth as a leader has shown me again and again that the most rewarding experiences come from my relationships." – Michael Dell
18. "The key is to listen to your heart and let it carry you in the direction of your dreams. I've learned that it's possible to set your sights high and achieve your dreams and do it with integrity, character, and love. And each day that you're moving toward your dreams without compromising who you are you're winning." – Michael Dell
19. "Sometimes you just have to belly up to the bar and take a chance. We made some mistakes, but we also had the strength to work our way out." – Michael Dell
20. "I was, you know, rebellious–an 18, 19-year-old and just did what I wanted to do and all worked out OK." – Michael Dell
21. "If you look at innovation, it doesn't just occur in the lab." – Michael Dell
22. "We've found that customers are very open. They'll tell you what's going on, what's working and what's not. They're looking for help." – Michael Dell
23. "You can't be afraid to fail because that's when you learn." – Michael Dell
24. "The point is, you can't keep doing the same thing and expect it to keep working." – Michael Dell
25. "If you want to sustain excellence over a long time, you'd better come up with a system that works well. Anyone can sprint for a little while, but you can't sprint for forty years." – Michael Dell
26. "Regrets are born of paths never taken." – Michael Dell
27. "There is no better catalyst to success than curiosity." – Michael Dell
28. "By questioning all the aspects of our business, we continuously inject improvement and innovation into our culture." – Michael Dell
29. "Don't be afraid to fail. Get out there and experiment and learn and fail and get a rate based on the experiences you have. Go for it and when you go for it you'll learn what you're capable of, what the potential is, where the opportunities are, but you can't be afraid to fail because that's when you learn." – Michael Dell
30. "Ideas are commodity. Execution of them is not." – Michael Dell
31. "Anything that can be measured can be improved." – Michael Dell
32. "Celebrate for a nanosecond." – Michael Dell
33. "If you have to go through life being unhappy to conform to society around you, that's not a very good deal." – Michael Dell
34. "With the understanding that you will face tough times and amazing experiences, you must also commit to the adventure. Just have faith in the skills and the knowledge you've been blessed with and go." – Michael Dell
35. "Collaboration equals innovation." – Michael Dell
36. "The very thing you fear could be the best thing to ever happen to you." – Michael Dell
37. "It's easy to decide what you're going to do. The hard thing is deciding what you're not going to do." – Michael Dell
38. "I had to give it a full go and see what happened." – Michael Dell
39. "It had always made sense to me to build a business based on what people really wanted, rather than guess what we thought they might want." – Michael Dell
40. "Each day that you're moving toward your dreams without compromising who you are, you're winning." – Michael Dell
41. "Ignore the people who tell you it won't work, and hire people who embrace your vision." – Michael Dell
42. "The idea of being all things to all people is a thing of the past." – Michael Dell
43. "If we have 99% [market] share of Ford Company, the question to us is 'How do we improve the customer satisfaction in order to get that additional 1% share?" – Michael Dell
44. "You just have to change. To be successful, what you have to do is have an acceptance of risk and you have to be pretty explicit about that, because if you don't accept risk, you don't get any innovation. And that means part of risk is you have to accept failure because not everything works." – Michael Dell
45. "It's exciting to see how fast your kids learn and grow. I'm not too worried about them, particularly the ones who like to break rules and don't follow instructions; those are the ones that will do just fine because they know what's important to them." – Michael Dell
46. "It's customers that made Dell great in the first place, and if we're smart enough and quick enough to listen to customer needs, we'll succeed." – Michael Dell
47. "Sometimes it's better not to ask-or to listen-when tell you something can't be done. I didn't ask for permission or approval. I just went ahead and did it." – Michael Dell
48. "People have often told us that what we wanted to do couldn't be done. Our success is due, in part, to not just an ability but a willingness to look at things differently. I believe opportunity is part instinct and part immersion—in an industry, a subject, or an area of expertise. Dell is proof that people can learn to recognize and take advantage of opportunities that others are convinced don't exist." – Michael Dell
49. "As you start your journey, the first thing you should do is throw away that store-bought map and begin to draw your own." – Michael Dell
50. "I started Dell 28 yrs ago with $1000. Revenues in 1984 were $6 million. Last year $62.1 billion. Impossible is nothing." – Michael Dell
Which of these Michael Dell quotes is your favourite? Let me know in the comments below. 🙂