67 Mark Cuban Quotes For Entrepreneurs, Business And Success
Mark Cuban is a successful entrepreneur and investor best known for appearing on the popular TV show "Shark Tank". He is also the owner of the Dallas Mavericks professional basketball team, Landmark Theatres, Magnolia Pictures and HDNet.
After being fired from a job as a computer salesman Mark Cuban started his first company, MicroSolutions. He sold it for $6 million.
He then started Broadcast.com and sold it to Yahoo for almost $6 billion.
The billionaire businessman and investor has always been known his hallmark work ethic and I've compiled some of the best Mark Cuban quotes that will not only motivate you but also give you some practical advice for success, business and entrepreneurship.
Hope you enjoy…and don't forget to share this post with others.
67 Mark Cuban Quotes
1. "Make your product easier to buy than your competition, or you will find your customers buying from them, not you." – Mark Cuban
2. "Sweat equity is the most valuable equity there is. Know your business and industry better than anyone else in the world. Love what you do or don't do it." – Mark Cuban
3. "Work like there is someone working 24 hours a day to take it all away from you." – Mark Cuban
4. "Don't start a company unless it's an obsession and something you love. If you have an exit strategy, it's not an obsession." – Mark Cuban
5. "If you're prepared and you know what it takes, it's not a risk. You just have to figure out how to get there. There is always a way to get there." – Mark Cuban
6. "It doesn't matter how many times you have failed, you only have to be right once." – Mark Cuban
7. "Open offices keep everyone in tune with what is going on and keep the energy up. If an employee is about privacy, show him or her how to use the lock on the bathroom." – Mark Cuban
8. "It is so much easier to be nice, to be respectful, to put yourself in your customers' shoes and try to understand how you might help them before they ask for help, than it is to try to mend a broken customer relationship." – Mark Cuban
9. "When you've got 10,000 people trying to do the same thing, why would you want to be number 10,001?" – Mark Cuban
10. "I worked hard and smarter than most people in the businesses I have been in." – Mark Cuban
11. "I still work hard to know my business. I'm continuously looking for ways to improve all my companies, and I'm always selling. Always." – Mark Cuban
12. "I create offbeat advice; I don't follow it. I rarely take third-party advice on my investments." – Mark Cuban
13. "What I do know, at least what I think I have learned from my experiences in business, is that when there is a rush for everyone to do the same thing, it becomes more difficult to do. Not easier. Harder." – Mark Cuban
14. "Treat your customers like they own you. Because they do." – Mark Cuban
15. "I'm a believer that you accomplish much, much more with direct relationships than by using an intermediary. And that cash you keep in the bank can be the difference between staying alive as a small business, or not." – Mark Cuban
16. "If you've got $25,000, $50,000, $100,000, you're better off paying off any debt you have because that's a guaranteed return." – Mark Cuban
17. "A sure sign of failure for a startup is when someone sends me logo-embroidered polo shirts. If your people are at shows and in public, it's okay to buy for your own employees, but if you really think people are going to wear your branded polo when they're out and about, you are mistaken and have no idea how to spend your money." – Mark Cuban
18. "It's not about money or connections – it's the willingness to outwork and outlearn everyone…And if it fails, you learn from what happened and do a better job next time." – Mark Cuban
19. "Being rich is a good thing. Not just in the obvious sense of benefitting you and your family, but in the broader sense. Profits are not a zero sum game. The more you make, the more of a financial impact you can have." – Mark Cuban
20. "What I've learned in these 11 years is you just got to stay focused and believe in yourself and trust your own ability and judgment." – Mark Cuban
21. "I don't care what anyone says. Being rich is a good thing." – Mark Cuban
22. "What I've learned is that if you really want to be successful at something, you'll find that you put the time in. You won't just ask somebody if it's a good idea, you'll go figure out if it's a good idea." – Mark Cuban
23. "I love to compete. To me, business is the ultimate sport. It's always on. There is always someone trying to beat me." – Mark Cuban
24. "In my opinion, right now there's way too much hype on the technologies and not enough attention to the real businesses behind them." – Mark Cuban
25. "I'm not the type to pat myself on the back and all that, but somebody has to be lucky, right? When I got to Dallas, I was struggling – sleeping on the floor with six guys in a three-bedroom apartment. I used to drive around, look at the big houses, and imagine what it would be like to live there and use that as motivation." – Mark Cuban
26. "I look at my annual budgets for everything and anything, and I look to see where I can save the most money on those items. Saving 30% to 50% buying in bulk – replenishable items from toothpaste to soup, or whatever I use a lot of – is the best guaranteed return on investment you can get anywhere." – Mark Cuban
27. "Go out there and get rich. Get so obnoxiously rich that when that tax bill comes, your first thought will be to choke on how big a check you have to write." – Mark Cuban
28. "Social media is just a platform. Twitter is a very simple and immediate broadcast platform. Facebook is a very personal, when it comes to friends and when it comes to fan pages, a little bit less but still somewhat personal way to communicate." – Mark Cuban
29. "The number-one job of the hedge-fund manager is not to make sure that you can retire with a smile on your face – it's for him to retire with a smile on his face." – Mark Cuban
30. "Culture is very important to the Mavs. Your best player has to be a fit for what you want the culture of the team to be. He has to be someone who leads by example. Someone who sets the tone in the locker room and on the court. It isn't about who talks the most or the loudest. It is about the demeanor and attitude he brings." – Mark Cuban
31. "Wherever I see people doing something the way it's always been done, the way it's 'supposed' to be done, following the same old trends, well, that's just a big red flag to me to go look somewhere else." – Mark Cuban
32. "When I got to the Mavericks people were all giving me advice – change this, change that – and one thing that I didn't do was fire anybody." – Mark Cuban
33. "You've got to be very cognizant of the correlation between social media links and business because they don't always correlate as highly as people would like." – Mark Cuban
34. "Money is a scoreboard where you can rank how you're doing against other people."– Mark Cuban
35. "Make sure you are the boss. I don't think I would encourage executives that work for me to blog. There can be only 1 public vision for an organization." – Mark Cuban
36. "When you turn your team upside down and try to figure out what the culture of the team is, you take the greatest risk a team can take." – Mark Cuban
37. "In the past, people used to tell me to shut up a bit. But what I believe is to put out your opinion and let everyone else react. If I'm wrong, I'm wrong." – Mark Cuban
38. "If there was a template for success in sports, everyone would follow it. You do the best you can and trust the people you trust." – Mark Cuban
39. "Recessions are the best time to start a company. Companies fail. Others hold back capital. If you are willing to do the preparation and work, it is the best time to invest in yourself and start a business." – Mark Cuban
40. "Forget about finding your passion. Instead, focus on finding big problems." – Mark Cuban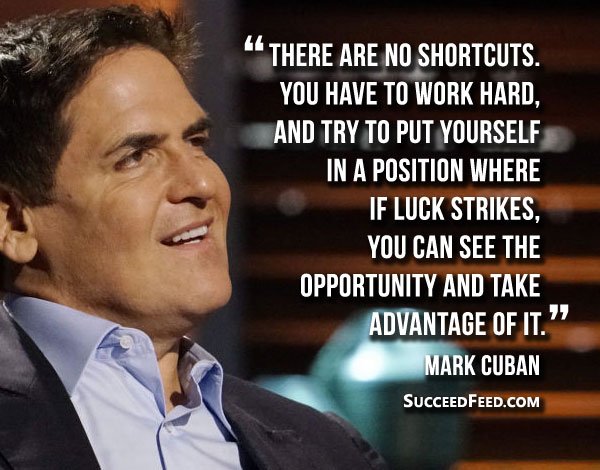 41. "It doesn't matter how many times you fail. You only have to be right once and then everyone can tell you that you are an overnight success." – Mark Cuban
42. "If you have managers reporting to managers in a startup, you will fail. Once you get beyond startup, if you have managers reporting to managers, you will create politics." – Mark Cuban
43. "Keep a pulse on the stress levels and accomplishments of your people and reward them. My first company, MicroSolutions, when we had a record sales month, or someone did something special, I would walk around handing out $100 bills to salespeople. At Broadcast.com and MicroSolutions, we had a company shot. The Kamikaze. We would take people to a bar every now and then and buy one or ten for everyone. At MicroSolutions, more often than not we had vendors cover the tab. Vendors always love a good party." – Mark Cuban
44. "I love to challenge conventional wisdom. I'm a big believer that in business and in politics, when everyone is doing the same thing, none are probably as effective or successful as they could be. Typically it's not prudent for people within those industries, parties, or organizations to stand up and challenge the incumbents. It is usually a formula for losing a job, customer, or endorsement. My businesses are usually built around challenging conventional wisdom, so I tend to gain by taking the other side. It's been very profitable and entertaining for me." – Mark Cuban
45. "It's not in the dreaming, it's in the doing." – Mark Cuban
46. "Every no gets me closer to a yes." – Mark Cuban
47. "It doesn't matter how many times you fail. It doesn't matter how many times you almost get it right. No one is going to know or care about your failures, and neither should you. All you have to do is learn from them and those around you because all that matters in business is that you get it right once. Then everyone can tell you how lucky you are." – Mark Cuban
48. "What makes a good salesperson? Let me be clear that it's not the person who can talk someone into anything. It's not the hustler who is a smooth talker. The best salespeople are the ones who put themselves in their customer's shoes and provide a solution that makes the customer happy." – Mark Cuban
49. "In sports, the only thing a player can truly control is effort. The same applies to business. The only thing any entrepreneur, salesperson or anyone in any position can control is their effort." – Mark Cuban
50. "There are no shortcuts. You have to work hard, and try to put yourself in a position where if luck strikes, you can see the opportunity and take advantage of it." – Mark Cuban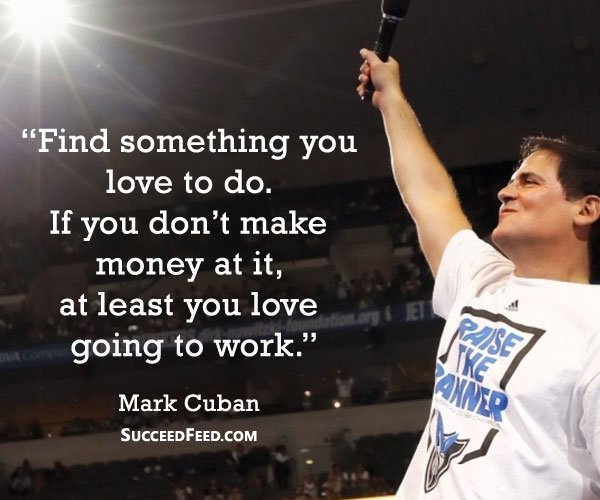 51. "Companies don't fail for a lack of cash or attitude. Companies fail for a lack or brains and effort." – Mark Cuban
52. "What does it take to be a successful entrepreneur? It takes willingness to learn, to be able to focus, to absorb information, and to always realize that business is a 24/7 job where someone is always out there to kick your ass." – Mark Cuban
53. "One thing we can all control is effort. Put in the time to become an expert in whatever you're doing. It will give you an advantage because most people don't do this." – Mark Cuban
54. "Always wake up with a smile knowing that today you are going to have fun accomplishing what others are too afraid to do." – Mark Cuban
55. "Don't let fear be a roadblock." – Mark Cuban
56. "Once you have found out what you love to do, there is only one goal: to be the best in the world at it." – Mark Cuban
57. "Creating opportunities means looking where others are not." – Mark Cuban
58. "Find something you love to do. If you don't make money at it, at least you love going to work." – Mark Cuban
59. "The thrill of victory in business blows away the thrill of victory in sports. Business is a sport 24x7x365." – Mark Cuban
60. "Doesn't matter if the glass is half-empty or half-full. All that matters is that you are the one pouring the water." – Mark Cuban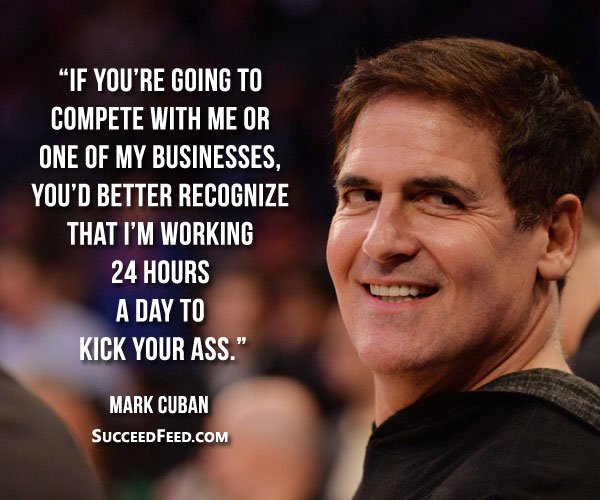 61. "For every one of my businesses, what would I have to do to kick my own ass? Whatever business you have, there is always someone trying to put you out of business. It's better for you to figure how they're going to do it, than they do it." – Mark Cuban
62. "If you're going to compete with me or one of my businesses, you'd better recognize that I'm working 24 hours a day to kick your ass." – Mark Cuban
63. "You've gotta be differentiated and unique. You've gotta know what your core competency is and be great at it." – Mark Cuban
64. "Learn to sell. In business you're always selling – to your prospects, investors and employees. To be the best salesperson put yourself in the shoes of the person to whom you're selling. Don't sell your product. Solve their problems." – Mark Cuban
65. "Don't get caught up in how many hours you work. Judge success based on having goals and measuring your results. Hard work, and lots of it, is certainly needed, but focus on what you get done." – Mark Cuban
66. "Most people think it's all about the idea. It's not. EVERYONE has ideas. The hard part is doing the homework to know if the idea could work in an industry, then doing the preparation to be able to execute on the idea." – Mark Cuban
67. "Perfection is the enemy of profitability. You can try and make everything perfect but you'll be losing opportunity somewhere else." – Mark Cuban
What's your favourite Mark Cuban quote above? Let me know in the comments below.