31 Best Michael Bloomberg Quotes On Business & Success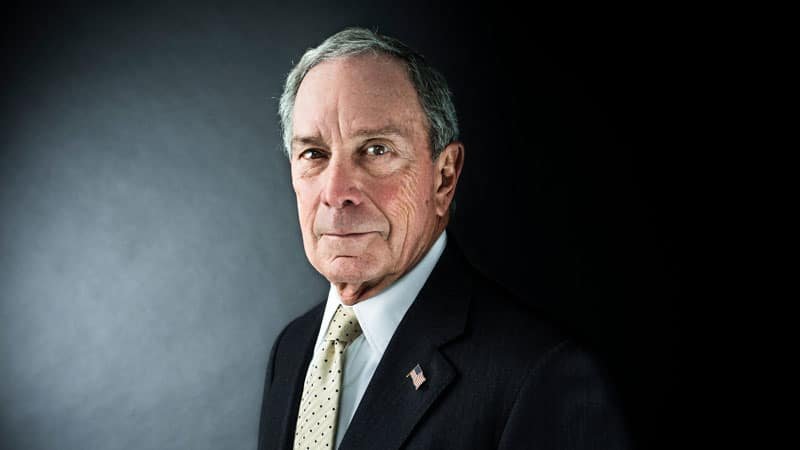 Michael Bloomberg is an American businessman, politician, author, and philanthropist.
Bloomberg is one of the founders, CEO, and owner of Bloomberg L.P., a global financial services, software and mass media company that bears his name.
As a politician, Michael Bloomberg served as the 108th Mayor of New York City, holding office for three consecutive terms, beginning his first in 2001.
His estimated net worth is a staggering $60 billion as of 2019. That currently makes him the 9th richest person in the world.
He joined The Giving Pledge, whereby billionaires pledge to give away at least half of their wealth. The campaign set up by fellow billionaires Bill Gates and Warren Buffet also includes the likes of Elon Musk, Larry Ellison and Mark Zuckerberg.
As you'll see from this collection of Michael Bloomberg quotes he has some great advice on business and success. I hope these quotes inspire you as an entrepreneur.
31 Best Michael Bloomberg Quotes
1. "Being an entrepreneur isn't really about starting a business. It's a way of looking at the world: seeing opportunity where others see obstacles, taking risks when others take refuge." – Michael Bloomberg
2. "Life is too short to spend your time avoiding failure." – Michael Bloomberg
3. "Progress is not inevitable. It's up to us to create it." – Michael Bloomberg
4. "You must first be willing to fail — and you must have the courage to go for it anyway." – Michael Bloomberg
5. "I think if you look at people, whether in business or government, who haven't had any moral compass, who've just changed to say whatever they thought the popular thing was, in the end they're losers." – Michael Bloomberg
6. "Don't be afraid to assert yourself, have confidence in your abilities and don't let the bastards get you down." – Michael Bloomberg
7. "After hard work, the biggest determinant is being in the right place at the right time." – Michael Bloomberg
8. "Entrepreneurship is having an idea to do something great and not entirely have a plan on how to do it but the drive and will power to make it work." – Michael Bloomberg
9. "If someone tells me they skied all day and never fell down, I tell them to find another mountain." – Michael Bloomberg
10. "Capitalism works." – Michael Bloomberg
11. "America is built around this premise that you can do it, and there are an awful lot of people who are unlikely to have done it who did." – Michael Bloomberg
12. "If you don't encounter setbacks in your career, if you don't have doubts and disappointments , let me tell you, you're not dreaming big enough." – Michael Bloomberg
13. "Working collectively and collaboratively is the difference between mediocrity by yourself or success as a team. You have to share the pain and the responsibility and if you do then you will also share in the rewards." – Michael Bloomberg
14. "My father, a bookkeeper who never earned more than $11,000 a year in his life, sat there, writing out a $25 check to the NAACP. When I asked him why, he said discrimination against anyone is discrimination against us all. And I never forgot that. Indeed, his philanthropy was a gift, not just to that organization, but to me." – Michael Bloomberg
15. "I've always respected those who tried to change the world for the better, rather than just complain about it." – Michael Bloomberg
16. "I never liked anyone who didn't have a temper. If you don't have a temper, you don't have any passion." – Michael Bloomberg
17. "Nobody wants a job where they don't have authority to go along with the responsibility. Quite the contrary. The more authority you give people, the better people you can attract, and the harder they're going to work, and the more loyal they are going to be." – Michael Bloomberg
18. "Getting the job done has been the basis for the success my company has achieved." – Michael Bloomberg
19. "Buy what's deliverable, not what could be." – Michael Bloomberg
20. "The next day after I got fired, literally the next day, I started a new company." – Michael Bloomberg
21. "If you want to do something for your children and show how much you love them, the single best thing-by far-is to support organizations that will create a better world for them and their children." – Michael Bloomberg
22. "What you've got to do is be honest. Say what you believe. Give it to them straight. Just don't wuss out." – Michael Bloomberg
23. "If you are honest with yourself and if you want to like what you see in the mirror, is you have to say what you really believe." – Michael Bloomberg
24. "If you want to know how to solve society's problems, you start out with better public education." – Michael Bloomberg
25. "There will be ups, there will be downs, there will be sideways. I can just tell you I have been hired, I have been fired, I have been lauded, I have been vilified. I've said some of the most brilliant things that just by accident appeared on my tongue, and I've said some of the dumbest things that you could imagine. But each day – even the day that I knew I was going to be fired – I looked forward to because I've always believed that tomorrow was going to be the best day of my life." – Michael Bloomberg
26. "If you look at who starts new businesses, people that are innovative and risk takers. When you look at immigrants, you really have to be an innovator and a risk taker to leave everything you know in the old country and go to a new country. People that come here in America come here to work." – Michael Bloomberg
27. "I do not think that anybody should get paid for lousy performance. I've said that for a long time. If you work hard and you do good, you get paid well." – Michael Bloomberg
28. "The truth of the matter is: you can create a great legacy, and inspire others, by giving it to philanthropic organizations." – Michael Bloomberg
29. "I tend to be reasonably blunt, maybe a little bit too much. But I just – I always respected people that tell the truth. And I've always wanted people to tell me the truth." – Michael Bloomberg
30. "We need people from all around the world. We need entrepreneurs, we need students that we're educating in our schools that we then throw out and we should make sure they can stay here. If we don't have the new flux of immigrants, nobody's going to create the jobs for the Americans who are currently out of work." – Michael Bloomberg
31. "In the game of life, when the final buzzer sounds, the only stat you carry with you is the number of assists you made." – Michael Bloomberg
Did you find these quotes by Michael Bloomberg inspiring?
What are your favourite Michael Bloomberg quotes? Let me know in the comments and please share this post to help and inspire others.