35 Lori Greiner Quotes That Will Empower You
Lori Greiner in an American inventor and entrepreneur who is best known for her role as an investor on Shark Tank.
She is one of the most prolific inventors our time holding 120 patents and having over 450 products.
Starting with the creation of just once clever product Lori Greiner went on to create and patent hundreds more and in the process landed her own show on QVC, becoming known as the Queen of QVC in the process.
As of 2017 she has an estimated net work of $50M.
Below you'll find 35 inspiring Lori Greiner Quotes that will empower the entrepreneur within you.
One thing you're sure to learn from Lori Greiner is that you must have self-belief if you're ever going to succeed.
35 Lori Greiner Quotes
1. "Dear optimist, pessimist, and realist – while you guys were busy arguing about the glass of wine, I drank it! Sincerely, the opportunist!" – Lori Greiner
2. "When I had challenges, it taught me to be more on top of it for the future. Things go wrong all the time when you are running your own business, but it's how you perceive it and deal with it that matters." – Lori Greiner
3. "Entrepreneurs are willing to work 80 hours a week to avoid working 40 hours per week." – Lori Greiner
4. "The big thing for me is, I never think about myself as a female in business. I'm a person in business." – Lori Greiner
5. "In business, it is most often all about getting your foot in the door, and once you do, everything opens up and things start to naturally progress into bigger and more opportunities." – Lori Greiner
6. "You are wise when you listen, especially to people with experience." – Lori Greiner
7. "A brilliant idea doesn't guarantee a successful invention. Real magic comes from a brilliant idea combined with willpower, tenacity, and a willingness to make mistakes." – Lori Greiner
8. "As an entrepreneur, you can always find a solution if you try hard enough." – Lori Greiner
9. "I always recommend, if you can, to patent or protect whatever your idea is. If you can't, you have to make your best judgment. Sometimes people don't get anywhere because they sit on something, so afraid to reveal it. And yet, in the reverse, sometimes if you expose something too widely, you can risk losing it." – Lori Greiner
10. "I think people don't like when you're not confident about what you're pitching, and they don't want to invest in you or get behind you." – Lori Greiner
11. "I had a history for starting something and maybe getting halfway done. Then I'd see the same thing I was doing on the bestseller list! My ideas were right, but I hadn't done them fast enough." – Lori Greiner
12. "I was fearless, I knew I would make it work, and that's the difference between successful entrepreneurs and people that don't get somewhere – it's that tenacity and drive." – Lori Greiner
13. "There are always things that are needed. There are always ways to do things better. It's all about offering solutions." – Lori Greiner
14. "You have to believe in your product and what you're doing and other people will follow." – Lori Greiner
15. "You need to pave your own way in the world." – Lori Greiner
16. "Entrepreneurship is the way we take control of our lives in a tough economy." – Lori Greiner
17. "I roll out of bed in the morning, whenever I want, and I work right away because, to me, that's the life. That's freedom. The whole point for me is that I love the freedom of being an entrepreneur that I do what I want to do when I want to do it." – Lori Greiner
18. "I have the attitude that anything is doable, that I can make anything happen." – Lori Greiner
19. "Your success will have everything to do with how you perceive yourself, because how you perceive yourself is how others will perceive you, too." – Lori Greiner
20. "In the beginning I was really, really lean. For the longest time I did it all. I played every hat. I was in the factory, doing the graphic design, the photography, the selling – literally everything. I saved money doing what I could myself. It was hard but I learned. I learned that nobody's better than you to get your business off the ground. The experience you get is priceless." – Lori Greiner
21. "If your home environment is good and peaceful and easy, your life is better and easier." – Lori Greiner
22. "You can make anything happen if you put your mind to it." – Lori Greiner
23. "Reach for the stars; you might just catch one." – Lori Greiner
24. "Not only is a good name catchy and memorable, it should help people understand what your business does. If your name reflects your products or services you'll have a much better chance of being found [via Google search], so it's important to choose wisely." – Lori Greiner
25. "Hire prudently, go slow and don't go overboard." – Lori Greiner
26. "Great ideas don't sell themselves." – Lori Greiner
27. "I'm a big believer in less is more." – Lori Greiner
28. "Persistence – don't take no for an answer." – Lori Greiner
29. "As many times as somebody may hit big pay dirt, somebody may also fall in the mud. There's never a guarantee." – Lori Greiner
30. "When it's yours, you don't mind doing whatever it takes. As it keeps growing and growing, it's a lot more work, but you also become better at everything." – Lori Greiner
31. "I don't like the word 'no' because I think you can always figure out something." – Lori Greiner
32. "I think if you just look around and think about what in your life you would like to be better, you can come up with an idea…" – Lori Greiner
33. "[On starting a business.] Anytime is a good time… if you're willing to put in the time, the hours and the devotion." – Lori Greiner
34. "The smaller the market, the harder it is to sell." – Lori Greiner
35. "You have to believe in yourself." – Lori Greiner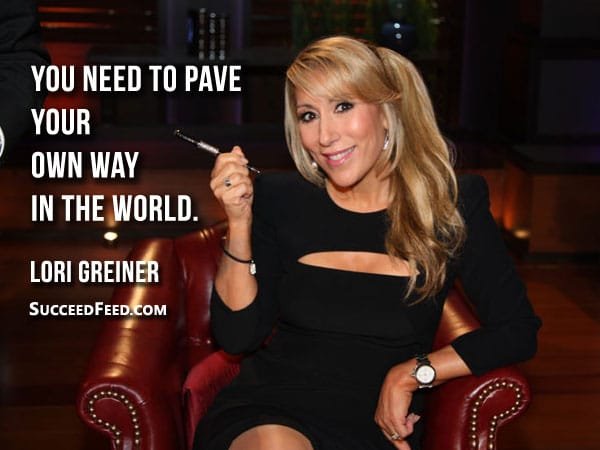 Did you find these Lori Greiner quotes inspiring?
If you liked these Lori Greiner quotes then please share this post to help others. I'd also love to know which Lori Greiner quote is your favourite. Let me know in the comments below!