25 Inspirational John Paul DeJoria Quotes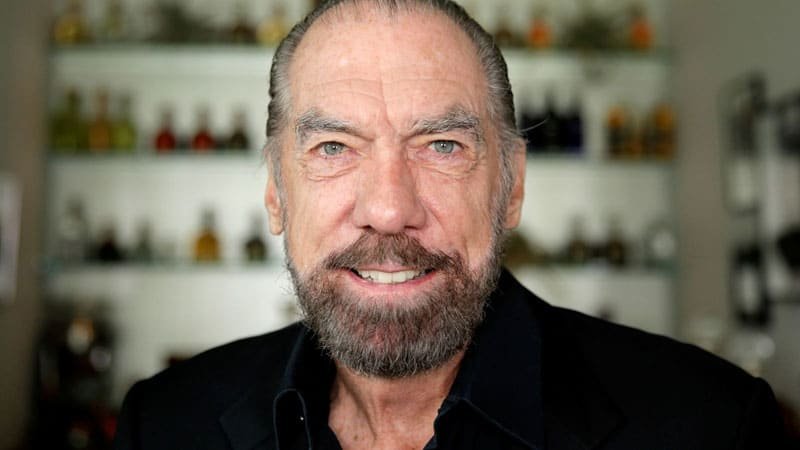 John Paul DeJoria is a Greek-Italian-American Entrepreneur, self-made billionaire and philanthropist who co-founded the Paul Mitchell line of hair products and The Patrón Spirits Company.
John Paul DeJoria has an incredible rags to riches story which includes being homeless twice at the age of 22 and 26 years old.
Born in Echo Park, his parents divorced when he was two years old and at nine he began selling Christmas cards and newspapers with his older brother to support his family.
After spending two years in the United States Navy he held numerous jobs that included being a janitor, a door-to-door encyclopedia salesman and an insurance salesman.
He got his first taste of the hair care industry as an employee at Redken Laboratories. A position he was fired from over a disagreement on business strategies.
Then in 1980, he formed John Paul Mitchell Systems with hairdresser Paul Mitchell with a loan of $700, homeless, living in a 20 year old Rolls Royce.
DeJoria's success with Paul Mitchell came from creating the best product, hard work, persistence, hiring well, giving back and treating people well.
He later co-founded The Patrón Spirits Company in 1989 and sold in 2018 for $5.1 billion. John Paul DeJoria's estimated net worth is $3.4 billion.
He is one of the most beloved entrepreneurs for treating people well and giving back with his philanthropic work. Here are the best John Paul DeJoria quotes you can learn from.
25 John Paul DeJoria Quotes
1. "Success unshared is failure." – John Paul DeJoria
2. "I'll never retire. I like what I'm doing." – John Paul DeJoria
3. "I don't use e-mail or a computer. I would be so inundated that I wouldn't be able to get any work done. Instead, I do everything in person or on the phone." – John Paul DeJoria
4. "I remember once in junior high school, on a Friday, my mom came home from work and said to my brother and I, 'You know, between us, we have only 27 cents, but we have food in the refrigerator, we have our little garden out back, and we're happy, so we are rich.'" – John Paul DeJoria
5. "Why pour shampoo into a rabbit's eyes to see how much shampoo you can put in an adult's eyes before they go blind? I'll put them in my hair, in my eyes before I would give them to anyone else." – John Paul DeJoria
6. "At least once a year, I meet with a group called the Giving Pledge. It's a group of billionaires – including me, Warren Buffett, Bill Gates, and Ted Turner – who have pledged to give away most of their money to charity. We meet for three days to talk about what we're doing to help make the planet a better place to live." – John Paul DeJoria
7. "I like to live well and I feel good about it because I know how much we give back. There's plenty for my family, now let's take care of the rest." – John Paul DeJoria
8. "When you start with next to nothing, all you've got is a lot of thought, a lot of innovation, figuring new ways to do things without using a lot of money." – John Paul DeJoria
9. "By loving yourself, you're going to be a happy person. A lot of people don't like themselves for whatever reason." – John Paul DeJoria
10. "You'd be safe to hold 5% of your assets and savings in gold and silver. Insurance for the future." – John Paul DeJoria
11. "I don't micromanage, but I do care deeply about every product we make. Every one goes through me, and I try most of our products before they go to market, including our John Paul Pet flea and tick shampoo. If I don't like it, it's not coming out." – John Paul DeJoria
12. "I'm not a detail guy. I depend on accountants and administrators to do my detail stuff for me, but I do know the overall picture and I know that if you put business people together in a room, not just politicians, they could shrink the deficit tremendously by good business tactics." – John Paul DeJoria
13. "I could go insane if I obsessed over every little detail of all of my companies. My management philosophy is to pay attention to the vital few and ignore the trivial many." – John Paul DeJoria
14. "In philanthropy, many of us give a little bit and each year we give more and more to see what actually works and not just throw money out there and see if it's going to work. If the government did the same thing, fabulous." – John Paul DeJoria
15. "At six years old we didn't have any money; there was my mother, my brother and I.

We had a deadbeat dad; left us before we were two, but she took us at Christmas-time to downtown Los Angeles. We had little cars going around in circles, it was pretty cool, and decorations in the window.

She gave my brother and I a dime and told us, "Boys whole half of it each, give it to
the man ringing the bell in the bucket."

We put it in this bucket, we said, "Mom, why did we give that man a dime?
That's like two soda pops." This is 1951, two soda pops, three candy bars.

And mom said, "Boys, that's the Salvation Army. They take care of people that have no place to live and no food. And we don't have a lot of money, but we can afford a dime this year.

Boys, always remember in life: give a little something to those in need, they'll always
be somebody that's not as well-off as you are. No matter where you are or how far down you are, try and help someone along the way."

It stuck with me." – John Paul DeJoria
16. "The difference between successful people and unsuccessful people is that successful people do all the things unsuccessful people don't want to do." – John Paul DeJoria
17. "Success is how well you do what you do when no one is looking." – John Paul DeJoria
18. "The biggest hurdle is rejection. Any business you start, be ready for it." – John Paul DeJoria
19. "Dreams really do work. If you dream, and you think really creatively about what you are dreaming about – it will happen." – John Paul DeJoria
20. "When your working becomes work, it's not fun; when your working becomes part of your Lifestyle, its fun." – John Paul DeJoria
21. "Change, create, inspire. Dreams really do work." – John Paul DeJoria
22. "You ought to be able to make a nice profit and also do something to change the world." – John Paul DeJoria
23. "A great leader doesn't look at, "What am I going to get out of this?" The great leader looks at, "What's the entire team going to get out of this?" and, "How does this benefit the end customer, not just me and my team? How do they benefit more than anybody else?" And when you have that mindset, it's easy to move ahead." – John Paul DeJoria
24. "Long-term entrepreneurship is liking what you do; who you do it with; and who you do it for." – John Paul DeJoria
25. "Make your product or service the best it is so you can be in the re-order business, not the order business. Number two, don't give up, be prepared for a lot of rejection, and then remember successful people do all the things unsuccessful people don't want to do like work from morning til night, work on the weekends, not give up and the most important thing is, as you grow, remember this, success unshared is failure. You want to be happy in your life and take care of your people." – John Paul DeJoria
Did you find these John Paul DeJoria Quotes inspiring?
If you liked these John Paul Dejoria quotes then please share this post to help and inspire others.