33 Empowering Jessica Alba Quotes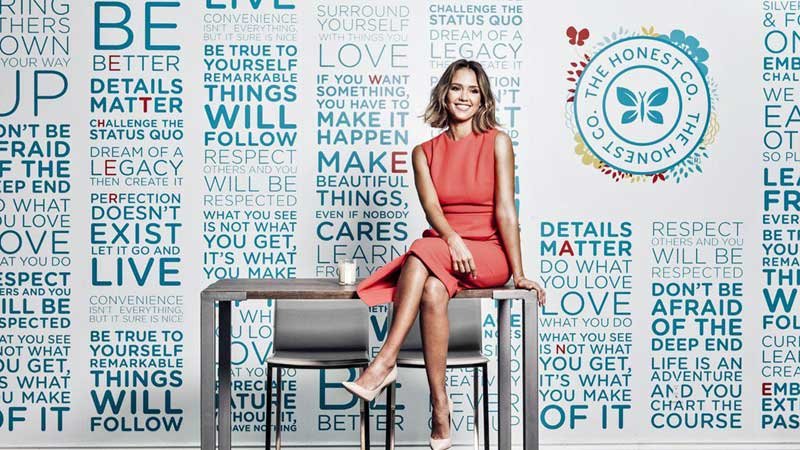 Jessica Alba is an actress, author and entrepreneur.
She is the CEO and co-founder of the Honest Company, a consumer goods company that sells baby, personal and household products.
In 2015 The Honest Company raised $100 million at a $1.7 billion valuation and Jessica Alba's net worth is an estimated $340 million.
From transitioning from a teenage actress, to a recognised Hollywood household name and now to a respected entrepreneur, Jessica Alba has years of experience and success that you can learn from.
In my opinion its her self-awareness and clear vision of what she wantet at every stage of her life that have led to her phenomenal success and I hope you enjoy the 33 Jessica Alba quotes I've put together below.
33 Jessica Alba Quotes
1. "My theory is that if you look confident you can pull off anything – even if you have no clue what you're doing." – Jessica Alba
2. "Living in L.A., everyone likes to mold you and change you. I don't care about fame, I don't care about being a celebrity. I know that's part of the job, but I don't feed into anyone's idea of who I should be." – Jessica Alba
3. "I don't put weight on fame, and having people around me just because I am famous makes me feel really bad about myself." – Jessica Alba
4. "The secret to using power is not to use it. Just having it is enough." – Jessica Alba
5. "With a movie…it's not like your whole life is hanging on this thing. With a business, your whole life is hanging on this thing–people have to love it." – Jessica Alba
6. "Being perfect is being flawed, accepting it, and never letting it make you feel less than your best." – Jessica Alba
7. "It's hard for people to take anyone seriously who's never done this before. But that just gave me fire to move forward." – Jessica Alba
8. "It's so much better to promote what you love than to bash what you hate." – Jessica Alba
9. "Launching products is easy – it's building it, finding the right manufacturers, getting the design right, and all of the marketing that is hard." – Jessica Alba
10. "No matter how different women are, we all seem to share the guilt that we're not doing enough. If anything, I would say that as long as you're doing your best, it's more than enough." – Jessica Alba
11. "At the company, we like to say we're honest, not perfect. We really listen to our customers and our internal teams to pivot as quickly as possible when it comes to addressing any challenges." – Jessica Alba
12. "I never just did what people told me. I questioned everything. When I look back, it is really no surprise that I started working at 12." – Jessica Alba
13. "I wish I was more educated, but I make do with the tools I was given in life." – Jessica Alba
14. "Having the right partners also means having people you like. They're all people I wouldn't mind getting stuck with at an airport for five hours." – Jessica Alba
15. "You have to be brutally honest with yourself and understand your strengths and weaknesses." – Jessica Alba
16. "I wish there were two of me and 48-hour days so I could get everything done. But for me, I have to not try and think that everything has to be 100 percent perfect all the time and leave room for error. As long as my kids feel loved and a priority, everything [else] really is secondary." – Jessica Alba
17. "I believed that there was a real opportunity for my idea, but I had to overcome a lot of self-doubt about establishing and running a business." – Jessica Alba
18. "The only way you can measure your success is by reflecting and seeing what you want out of the experience. And the journey is just as much a part of the success you seek out." – Jessica Alba
19. "It's all about your product and how it performs. Either it works, or it doesn't." – Jessica Alba
20. "I try my hardest every day, and I find when I go to bed early and wake up early, I feel the most productive." – Jessica Alba
21. "Every time I'd get a critique or some redirection, I'd always just take it very personally. Now I have no problem with it." – Jessica Alba
22. "But I don't feel the need to be famous." – Jessica Alba
23. "Find your passion and do it totally. The more life experience you get, the better you'll be at whatever you want to do." – Jessica Alba
24. "You have to be tenacious, you have to be focused, you have to have a real vision, and be extremely passionate about it." – Jessica Alba
25. "I share the same advice that my mom gave me – stay hydrated and sleep well. And that being a beautiful person on the inside is what really matters." – Jessica Alba
26. "Success takes communication, collaboration and, sometimes, failure." – Jessica Alba
27. "Nothing is put on pause. Everything is still happening. And then as far as just reflecting on what got you to where you are, there aren't very many times where we have the space to sit and reflect and really understand the depth of what it took and the grit that we had to have to get to where we are." – Jessica Alba
28. "I like to organize. I have an opinion. I like to get stuff done." – Jessica Alba
29. "All the rejection that I've been through only made me stronger, and it's part of being an entrepreneur. You kind of have to take the kid gloves off and let them feel it because it's not going to be the first time that someone's going to say "no" or close a door in your face. You're going to have to figure out how to burst through it." – Jessica Alba
30 ."I'm much more of a risk taker. I'm more fearless now than when I was 18. I was much more self-aware and I cared too much about what people thought of me and now I really don't. I probably should." – Jessica Alba
31. "I guess for me, balance isn't about treating your time like a pie chart and dividing it into equally sized slices for you, the kids, work, and so on. It's about the quality of how you spend your time, not the quantity–are you being present and focused on whatever you're doing while you're doing it? I truly believe that's how you can be the best version of yourself, whether you're in work mode, mom mode, or wife mode. When I know I'm giving my undivided attention in each of these areas, I don't feel so guilty about the time spent away from them." – Jessica Alba
32. "Love is ever evolving and it takes compromise, work and patience." – Jessica Alba
33. "I don't think it serves any minority or underrepresented group to be coddled. Because the world won't coddle you. So I actually believe in tough love, hard truths, black and white." – Jessica Alba
Did you find these Jessica Alba Quotes empowering?
If you liked these Jessica Alba quotes then please share this post to help others. I'd also love to know which Jessica Alba quote is your favourite. Let me know in the comments below!