60 Best Eminem Quotes On Life & Success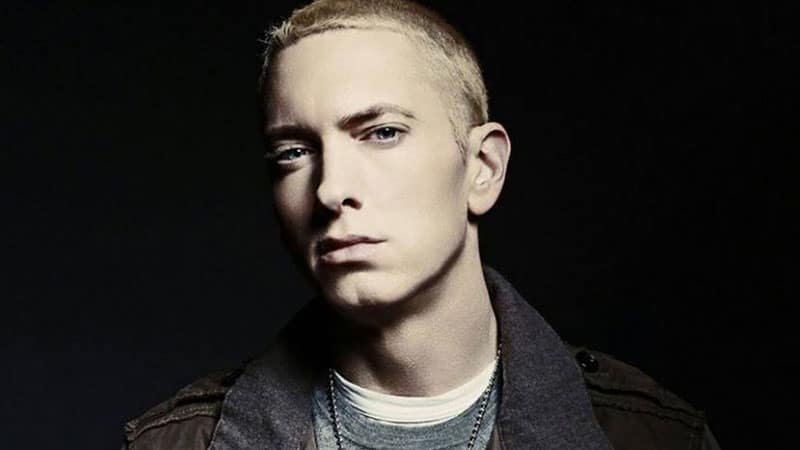 If you're looking for the best collection of Eminem quotes then look no further.
Marshall Bruce Mathers III, known professionally as Eminem, is an American rapper, songwriter, record producer, record executive, film producer, and actor. He is regarded by many as a lyrical genius and one of the greatest rappers of all time.
Eminem is one of the most influential and inspirational figures of the 21st century. He had a difficult childhood, never knowing his father, having a troublesome relationship with his mother and was bullied at school.
Eminem struggled to make it as a white rapper in what's normally considered a black industry. Working odd jobs to make ends meet while participating in rap battles and desperately attempting to land a record contract—was later dramatized in Eminem's semi-autobiographical film, 8 Mile.
He achieved mainstream success when he signed with Dr. Dre's Aftermath Entertainment and recorded several bestselling albums. His 2000 album, The Marshall Mathers LP is the fastest-selling album in rap history. He also worked with Dr. Dre to sign 50 Cent, who also went on to become one of the best selling rappers of all time.
Eminem's music is as inspirational as the man himself. As you'll see from the Eminem quotes below his words have helped millions of people to feel empowered and motivated.
I hope this collection of Eminem quotes helps to inspire you to achieve your own greatness and success.
Inspirational Eminem Quotes
1. "The truth is you don't know what is going to happen tomorrow. Life is a crazy ride, and nothing is guaranteed." – Eminem
2. "Everybody has goals, aspirations or whatever, and everybody has been at a point in their life where nobody believed in them." – Eminem
3. "I say what I want to say and do what I want to do. There's no in-between. People will either love you for it or hate you for it." – Eminem
4. "You don't get another chance, life is no Nintendo game." – Eminem
5. "When I say or do something, I do it. I don't give a damn what you think. I'm doing this for me." – Eminem
6. "I just can't sit back and wallow, in my own sorrow, but I know one fact: I'll be one tough act to follow." – Eminem
7. "If people take anything from my music, it should be motivation to know that anything is possible as long as you keep working at it and don't back down." – Eminem
8. "Nobody likes to fail. I want to succeed in everything I do, which isn't much. But the things that I'm really passionate about, if I fail at those, if I'm not successful, what do I have?" – Eminem
9. "I'm standing up, I'mma face my demons, I'm manning up, I'mma hold my ground." – Eminem
10. "You've got enemies? Good, that means you actually stood up for something." – Eminem
11. "People can try to reinvent themselves. I don't think you can really change who you are, though, because who you are is pretty much where you came from and what you've done up to now." – Eminem
12. "Don't ever try to judge me dude, you don't know what the fuck I've been through." – Eminem
13. "You can make something of your life. It just depends on your drive." – Eminem
14. "Don't let them say you ain't beautiful. They can all get fucked, just stay true to you." – Eminem
15. "Be proud of who you are." – Eminem
16. "Nobody knows me I'm cold, walk down this road all alone. It's no one's fault but my own, it's the path I've chosen to go." – Eminem
17. "Behind every successful person lies a pack of haters." – Eminem
18. "Sometimes I feel like rap music is almost the key to stopping racism." – Eminem
19. "If I could take it all back now, I wouldn't. I would have done more s people said I shouldn't." – Eminem
20. "The moment I used my adversity to my advantage, my career exploded." – Eminem
21. "Look, if you had one shot, or one opportunity. To seize everything you ever wanted in one moment. Would you capture it or just let it slip?" – Eminem
22. "I try to treat all the money I'm making like it's the last time I'm going to make it." – Eminem
23. "I do say things that I think will shock people. But I don't do things to shock people. I'm not trying to be the next Tupac, but I don't know how long I'm going to be on this planet. So while I'm here, I might as well make the most of it." – Eminem
24. "Love is just a word, but you bring it definition." – Eminem
25. "Straighten up little soldier, stiffen up that upper lip. What are you crying about? You got me." – Eminem
26. "I started learning how to not be so angry about things, learning how to count my f—ing blessings instead. By doing that, I've become a happier person, instead of all this self-loathing I was doing for a while." – Eminem
27. "A normal life is boring." – Eminem
28. "And to the rest of the world, God gave you them shoes to fit you, so put them on and wear them. Be yourself man, be proud of who you are." – Eminem
29. "Cause sometimes, you just feel tired. Feel weak. And when you feel weak, you feel like you wanna just give up. But you gotta search within you. You gotta find that inner strength, and just pull that shit out of you. And get that motivation to not give up and not be a quitter." – Eminem
30. "Have you ever loved someone so much you'd give an arm for? Not the expression. No, literally give an arm for!" – Eminem
31. "I didn't have nothin' going for me… school, home… until I found something I loved, which was music, and that changed everything." – Eminem
32. "Throughout my career, I fed off the fuel of people not being able to understand me." – Eminem
33. "I'm supposed to be the soldier who never blows his composure. Even though I hold the weight of the whole world on my shoulders, I ain't even supposed to show it, my crew ain't supposed to know it." – Eminem
34. "Trust is hard to come by. That's why my circle is small and tight. I'm kind of funny about making new friends." – Eminem
35. "Let me self-empower you. When you're down and they're try'na clown the fuck outta you. And you feel like you're running out of fuel. I'll show you how to use doubt as fuel." – Eminem
36. "You better lose yourself in the music. The moment, you own it, you better never let it go. You only get one shot, do not miss your chance to blow. This opportunity comes once in a lifetime, yo." – Eminem
37. "There's no limit on how far I would go, no boundaries, no lengths." – Eminem
38. "Dealing with backstabbers, there was one thing I learned. They're only powerful when you got your back turned." – Eminem
39. "I act like shit don't phase me, inside it drives me crazy. My insecurities could eat me alive." – Eminem
40. "I want to solidify as an artist and show that as I grow as a person and make mistakes and learn from them, I'm going to grow artistically." – Eminem
41. "There is no mountain I can't climb. There's no tower too high. No plane that I can't learn how to fly." – Eminem
42. "Nobody asked for life to deal us with these bullst hands we're dealt. We've gotta take these cards ourselves and flip them don't expect no help." – Eminem
43. "They can trigger me. But they'll never figure me out." – Eminem
44. "Imma be what I set out to be without a doubt undoubtedly." – Eminem
45. "Success is my only option, failure's not." – Eminem
46. "Sometimes you just gotta let shit go and say 'To hell with it' and move on." – Eminem
47. "I realized, 'Yo, I can't do anything in moderation. I don't know how." – Eminem
48. "Thanks cuz your hate is what gave me this strength." – Eminem
49. "You'd have to walk a thousand miles in my shoes just to see what its like to be me!!" – Eminem
50. "Why be a king, when you can be a god?" – Eminem
51. "I don't care if you're black, white, straight, bisexual, gay, lesbian, short, tall, fat, skinny, rich or poor. If you're nice to me, I'll be nice to you. Simple as that!" – Eminem
52. "God gave you them shoes to fit you, so put them on and wear them. Be yourself man, be proud of who you are. Even if it sounds corny, don't let no one tell you, you ain't beautiful." – Eminem
53. "This is your moment, and every single minute you spend. Tryna hold on to it because you may never get it again." – Eminem
54. "Had a dream, I was King, I woke up, still King." – Eminem
55. "I do it because I can. I do it because I want to. I want to because you said I couldn't." – Eminem
56. "People will hate you for speaking the truth, but you've gotta learn to stand up to them, so don't be offended if I say something you don't like." – Eminem
57. "I have nothing to lose but something to gain." – Eminem
58. "It's okay to lose people, but never lose yourself." – Eminem
59. "Some people dream of success. Other people wake up and work hard at it." – Eminem
60. "Life is too short and I got no time to sit around just wasting it." – Eminem
Did you like these inspirational quotes?
What are your favorite Eminem quotes? Let me know in the comments below and please share this post.