33 Roger Federer Quotes That Will Inspire Greatness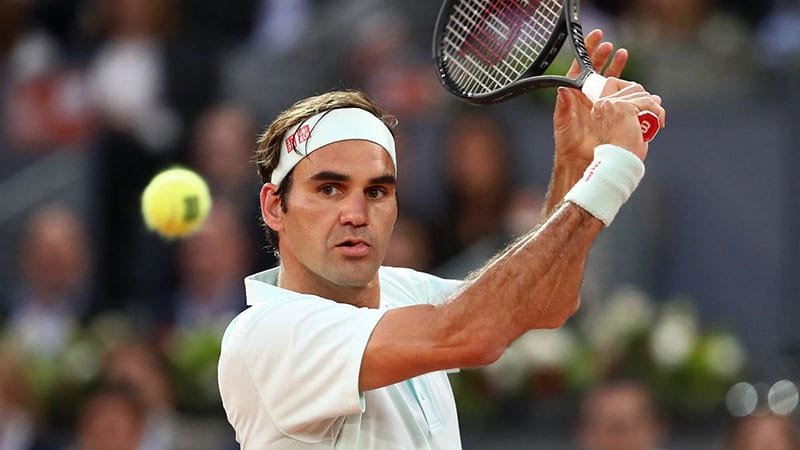 If you're looking for the best collection of Roger Federer quotes on motivation and success then look no further.
Roger Federer is a Swiss professional tennis player and given his achievements, is considered by many players and analysts to be the greatest tennis player of all time.
He has been called a living legend, the greatest athlete of his generation and Tennis.com listed him as the greatest male player of the open era.
No other male tennis player has won 20 major singles titles in the Open Era, and he has been in 31 major finals, including 10 in a row. He has held the world No. 1 spot in the ATP rankings for longer than any other male player. He was ranked No. 1 at the age of 36 and has won a record eight Wimbledon titles. He won five consecutive US Open titles, which is the most in the Open Era.
Putting his achievements to one side, what makes Federer so popular among tennis fans is his apparent effortlessness and efficient movement on the court.
As you'll see from this inspiring collection of Roger Federer quotes, along with his exceptional talent, his success comes down to belief, focus, hard work and loving what you do.
33 Roger Federer Quotes
1. "Success is a nice thing because it always means you've taken a step forward and it gives you a sense of pride, which in turn gives you confidence and experience, a positive circle, so to speak." – Roger Federer
2. "There is no way around hard work. Embrace it. You have to put in the hours because there's always something which you can improve." – Roger Federer
3. "I fear no one but respect everyone." – Roger Federer
4. "When you're good at something, make that everything." – Roger Federer
5. "It is always in my mind still that I can crush anybody. That's not an issue. But I think that is the same for most athletes. If you don't believe you can win tournaments anymore, then you can't do it." – Roger Federer
6. "The more I lose, the more they believe they can beat me. But believing is not enough, you still have to beat me." – Roger Federer
7. "You have to believe in the long-term plan you have but you need the short-term goals to motivate and inspire you." – Roger Federer
8. "I always believe if you're stuck in a hole and maybe things aren't going well you will come out stronger. Everything in life is this way." – Roger Federer
9. "I'm a very positive thinker, and I think that is what helps me the most in difficult moments." – Roger Federer
10. "You always want to win. That is why you play tennis because you love the sport and try to be the best you can at it." – Roger Federer
11. "When you do something best in life, you don't really want to give that up, and for me it's tennis." – Roger Federer
12. "Sometimes you have to accept that a guy played better on the day than you." – Roger Federer
13. "I don't play for the record books." – Roger Federer
14. "What I think I've been able to do well over the years is play with pain, play with problems, play in all sorts of conditions." – Roger Federer
15. "I've always been aware that the image you patiently construct for an entire career can be ruined in a minute. It scares you a bit, but that's the way things are." – Roger Federer
16. "I have learned to be even more patient." – Roger Federer
17. "I enjoyed the position I was in as a tennis player. I was to blame when I lost. I was to blame when I won. And I really like that because I played soccer a lot too, and I couldn't stand it when I had to blame it on the goalkeeper." – Roger Federer
18. "We can't always agree on everything." – Roger Federer
19. "Being a husband is for me as big a priority as being a father." – Roger Federer
20. "A man who wins is a man who thinks he can." – Roger Federer
21. "You have to put in a lot of sacrifice and effort for sometimes little reward but you have to know that if you put in the right effort the reward will come." – Roger Federer
22. "I always look at the long term." – Roger Federer
23. "I'm not playing to prove anything to journalists. I'm playing for myself, for my fans, to make people happy." – Roger Federer
24. "The one thing you can do for sure is push the luck on your side." – Roger Federer
25. "I love tennis! I've always felt like this because it is such a classy sport with a great, competitive flair to it." – Roger Federer
26. "I always knew I had something special." – Roger Federer
27. "Once you find that peace, that place of peace and quiet, harmony and confidence, that's when you start playing your best." – Roger Federer
28. "Clearly, when you win everything, it's fun. That doesn't necessarily mean you love the game more." – Roger Federer
29. "I always had the dream that, once I became No 1 in the world, that if I had a child I hoped I would have it early enough so the child can see me playing." – Roger Federer
30. "I can't stay No. 1 for fifty years, you know. We'll see what happens." – Roger Federer
31. "I'm not angry. As an athlete … you should be open to criticism, and you're allowed to be criticized, because not everybody has the same opinion, not everybody likes the same players. The rankings are quite volatile: Today you're 'great,' tomorrow you're 'not,' but then you're 'great' again. It makes for great stories. Now, I always look at the long term and by doing that, obviously, I can stay calm through the storm." – Roger Federer
32. "Obviously, matches and all that stuff takes its toll on your body and so forth. But as you get sort of a bit older, a bit wiser, and a bit more experienced, you know also how to handle it." – Roger Federer
33. "I definitely need to use my chances when they come because definitely there won't be many." – Roger Federer
Did you like these inspirational quotes?
What are your favorite Roger Federer quotes? Let me know in the comments below and please share this post.